The dreaded and exciting question posed to me last week at work. Dreaded because, where do you even begin? There is no personal backlist to pull from. No favorite book or genre. No TBR list. No readalikes to align to. I even asked about television shows. None. I also don't want to scare a new reader away by rambling off every book I've read in the past two years that I've loved.
Exciting because I was once (for a very short time during college and grad school) a nonreader. Those first few books I finally picked up really helped me pave the way to rekindle my love for reading and hone in on genres I enjoy. It's still evolving.
After a little prodding I found out what this young mother of two didn't want: nothing too long, nothing racy, not too dark or disturbing, nothing offensive (whatever that could be), no social justice, nothing political. Something available on our shelves without having to put it on hold. I work at a branch so our books are from the last five years or so. Something light yet inspiring. Ah. I led her to…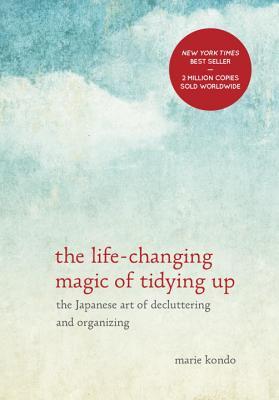 The Life-Changing Magic of Tidying Up by Marie Kondo.  Now to be fair, I didn't get through the audio of this book myself. I ended up skimming the book after, though. There are numerous readers who swear by the KonMari Method. It's a short read with helpful tips on decluttering your home which then declutters your life and mind. Surround yourself with things that "spark joy". She checked it out and I'm happy to report came in today liking it. She was there to pick up Being Mortal by Atul Gawande, a much heavier and thought provoking book. So she likes books that are current, nonfiction, with content to mull over. With that revelation I'd also suggest:
Gratitude by Oliver Sacks. I just reread this collection of essays (previously published in The New York Times), and was reminded how insightful and inspiring he was. There are essays that will make you tear up but all will leave something to digest about life. The four essays were written between 2013 and right before he died in August 2015. The Joy of Old Age was written when he turned 80 and continues to remain a favorite of mine. My Own Life is about when he found out his cancer had spread, My Periodic Table about his treatment, and finally (and very sadly) Sabbath. I'm linking the original essays.
Another book that left me with a feeling of direction and inspiration is this tiny little book that I just don't want to return to the library yet. Congratulations, By The Way by George Saunders should be read by everyone and would be the perfect gift for that high school or college graduate. Or a person in your life that needs some inspiration or is going through some big questions in life. The 64 page book is the speech he gave at Syracuse University and how I wished I had heard something like that at 22. Here's a link to the video as well as a copy of the speech. Read the speech first. 🙂
Many times at the library we are asked for suggestions, not recommendations. The difference is when recommending, we've read the book and can get a feel if it might be something in their wheelhouse. But we suggest much more often, trying to decipher which books match their tastes in reading. In both cases, it's a hit or miss. I think in this case, I was limited with my suggestions, but in the end choosing books that bring joy and were thought-provoking benefited this born-again reader.
Has anyone who doesn't read or want to read asked you for a suggestion? Where do you begin?