What do William Shakespeare, Jojo Moyes, Kristan Higgins, Rainbow Rowell, David Nicholls, Jane Austen and Maragaret Mitchell all have in common? They all have novels that fall into the romance category and some of their works are favorites of mine. On this post (meme hosted by The Broke and the Bookish) I'm talking about a different kind of romance book that really tests my sanity.
I used to read more romance novels than I do currently. I enjoyed the escape, the easy readability, the predictable formulaic storylines, the laugh out loud awkward scenes, the gorgeous characters who built up tension with one another before finally getting down and dirty. And for all those same reasons, I walked away from romance books.
Now once and a while, I'll pick up one in between heavier stories for lighter fare but I don't seek them out. At the library we process many books and plenty have crossed our fingers where we have to stop and take a moment. The snark and laughter begins and we are mystified that they are checked out so often. After talking to staff and asking what they liked and disliked about romance, we had similar reasons. (All covers taken from Goodreads and interestingly can crossover into each category!)
1. and 2.) The awful covers and equally awful titles:
Not 9 days or 11 days, but only a mere 10 days to seduce and angel. Impressive! And the double entendre? Ugh.
3.) The man possessing the meak, timid, virgin storyline:
Double ugh! I have no words. But the few I have read have made me want to beat up both of the characters.
4.) The perfect, beautiful people:
Where are all the people with rolls, beer bellies, stretch marks, C-section scars, bad acne, thinning hair? I guess they can't find romance. What a shame.
5.) The obsession with Scotland and Highlanders: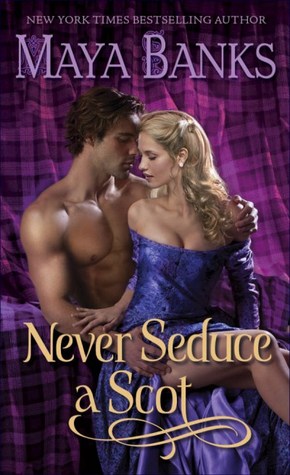 My Mom is Scottish. She came here when she was 22. All of her/our family still lives in Scotland and every time I see one of these books, I cringe. What's the allure with those scots anyway?! Must be the kilts and the beautiful lilting accent.
Okay that's five reasons that warrant a cover. But wait, there's more:
6.) The cheesy dialogue that no one in real life speaks
7.) The print! Why does the print have to be so small?!
8.) The insta-love
9.) Drama for drama's sake
10.) Sequels upon books upon series
In the end I do enjoy a good romance. These days it just happens to be one that is in addition to an already strong plot. The romance, angsty feelings and quirky banter are welcomed add-ons, not the center of the story. I am a sucker for love and a softie, after-all.
So tell me, what do you like/dislike about Romance novels?