To some, Chunkster books are considered adult literature (fiction or non-fiction) that have 450 pages or more. (Large type starting at 525 pages). There are a number of chunkster reading challenges and groups online, if that's your thing. Just do a search and you'll find all sorts to choose from. But I personally feel that a "chunkster" is 500 pages or more. I read many books close to the 450 mark and don't feel them to be overwhelming or too long. And that's the hiccup, isn't it? Does it only depend on page number? Should difficulty or written language play a part? We have all read shorter books, essays, short stories and even poems that felt like homework where more than once you were left scratching your head, putting the literature down and not wanting to pick it back up.
Today's Top Ten Tuesday is "Top Ten Books I Am Not Sure I Want To Read". There are very few books that I stay away from except maybe series books and New Adult. Series books are too much of a commitment unless I really like the first book. But lately I'm not even wanting to go there once I find out there is no resolution after book 1. And NA has burned me too many times to count.
I really do like big books. Big, heavy, chunksters that could double as a paperweight. Ones that you wish were on your ereader because lugging it around is a hassle. I am not scared or shy away from them. Case in point: I LOVED East of Eden (601) Gone With The Wind (1,037) Jane Eyre (507)  A Tree Grows in Brooklyn (496) and most recently, All The Light We Cannot See (544). But do I want to read them right now? I have sooooo many lovelies on my TBR list, ARCs I've received, books that friends have recommended and some required for my book club. These big beauties keep falling lower and lower on the list and maybe it's because they are chunksters (page numbers are listed after the title and click on each cover for more info).
1 and 2.) These are both on my shelves and I just haven't given them any love. The Art of Fielding (512) has been on my list waaaay too long and stop yelling at me about The Book Thief (552). I know!!
3.) I want to read The Bone Clocks (608-some editions 640) by David Mitchell due out on September 2nd and then thought, "I should read one of his other books to get a feel for his writing. Let's see…which one?  Cloud Atlas (509), The Thousand Autumns of  Jacob de Zoet (496), Ghostwritten (426)…I give up.
4.) Any book by Kate Morton. This counts as one, by the way. I desperately want to read all of her books. I love the synopsis of each one and the reviews are pretty strong throughout. But which one should I start with? Here are my options: The Secret Keeper (496), The House at Riverton (496) The Distant Hours (562) and The Forgotten Garden (552). And just a little add-on, these were the number of pages that I found to be the least. They are longer in different formats!
5.) Another book I've wanted to read for some time. Winter's Tale (768) by Mark Helprin came out in 1983 and while it wasn't on my radar back then it has made a resurgence with the release of the movie adaptation. Do I go straight for the movie on this one?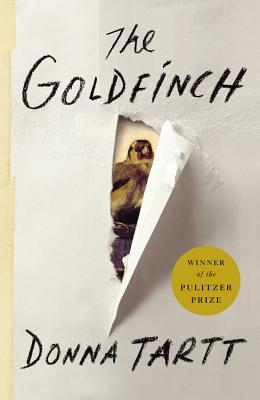 6.) Pulitzer Prize winner (2014) for Fiction, The Goldfinch by Donna Tartt (771). I feel this chunkster (aside from The Book Thief) will trump all the others on this list. I just have this feeling that I will finally get to it and then wonder why I didn't read it sooner.
7.) I'm not so sure about The Luminaries (834) by Eleanor Catton. Again, another feeling. It won the Man Booker Prize (2013) and numerous others but the reception has been so divided that I'm just curious at this point to see where I will fall.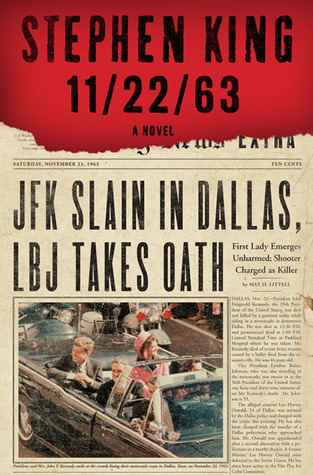 8.) Rory from Fourth Street Review worships Stephen King and gave me this rec when we met in NY for BEA. She did this wonderful post recently for SK virgins and for readers who think they won't like his work. Not all horror, she says. I have only seen his books as movie adaptations, fearing that the books will take hold of my vivid and demented imagination and cause me to sleep with the lights on for weeks. Yes, I'm somewhat of a chicken. 11/22/63 comes in at a cool 849 pages. How about Bag of Bones (736), The Stand (823), Under The Dome (1,074)? Sorry, Rory, this chunkster will just have to wait. An it's not because I'm a tiny bit scared…that I'll love him too!
9.) Anna Karenina (838) by Leo Tolstoy. I will not see any movie version before I read this book. It's been a challenge of mine for as long as I can remember.
10.) Infinite Jest (1,079) by David Foster Wallace. Just the description of this contemporary novel has always piqued my interest. It's filled with a plethora of words that need to be defined, endnotes galore and a timeline to end all timelines. Then you have the sheer length of this gargantuan, that finishing it will feel like some type of feat alone. A tortured artist who ended his life at the young age of 46, this novel struck a chord with his fans. Over 80% of Goodreaders rated it 4 stars or higher. That's pretty decent odds that it is worth it.
Do you read Chunkster Books?
Which ones are/were your favorites/a waste of time?
Have any on your TBR list that keep getting passed up?