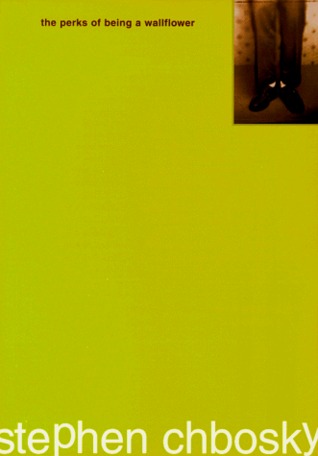 The Perks of Being a Wallflower was first published in February 1999. I didn't read it until last year before I had this blog and it was quite the book for a little skinny thing. It's in the genre of YA and is deemed coming-of-age but also covers MANY heavier topics such as: drug use, sex, rape, abortion, homosexuality, bullying, suicide, incest/molestation, mental illness…did I miss anything? In only 213 pages, some readers felt that Chbosky packed in all he could to heighten the drama factor but I didn't feel that way reading it. I just know that I felt very sad at times while completely understanding Charlie's feelings of isolation and mixed emotions as he navigated teenage life. No matter how old I am, I have no trouble going back to that confusing time as a teenager and remembering all the crap that goes along with all the good. It's kind of tough to forget.
"I don't know if I will have the time to write any more letters, because I might be too busy trying to participate. So, if this does end up being the last letter, I just want you to know that I was in a bad place before I started high school, and you helped me. Even if you didn't know what I was talking about, or know someone who's gone through it, you made me not feel alone. Because I know there are people who say all these things don't happen. And there are people who forget what it's like to be sixteen when they turn seventeen. I know these will all be stories some day, and our pictures will become old photographs. We all become somebody's mom or dad. But right now, these moments are not stories. This is happening. I am here, and I am looking at her. And she is so beautiful. I can see it. This one moment when you know you're not a sad story. You are alive. And you stand up and see the lights on the buildings and everything that makes you wonder. And you're listening to that song, and that drive with the people who you love most in this world. And in this moment, I swear, we are infinite."
I loved that quote from the book and once again on screen. I might have highlighted the entire book.
Last night I finally watched the movie, by accident. I'm not one to run out when a book to movie adaptation is made. I don't know why. It was made in October 2012, and I saw all the trailers and hype, but still I waited. Maybe that's why I don't critique adaptations too harshly. I let the original book version settle for some time before going out and picking apart ever difference. I don't plan it that way. Maybe subconsciously I want to enjoy both for what they are.
Anyway, the movie was fantastic! I actually got real emotional at the end and shed some tears. Chbosky wrote the screenplay as well as directed. It makes you wonder if writers write their books with a movie in mind. How it would play out on the big screen. However he did it, both attempts were equally profound. The cast was perfect and Logan Lerman embodied Charlie in every way. You could feel his internal struggle while staying hopeful and positive. The kid must take some serious acting classes on how to engage the audience with pained facial expressions through the lens. When he breaks down at the end before Sam leaves for college? Well it ripped me open. He was good!
One last thing, the music was such a throw back to my high school years in the 90s, that I might just have to get the soundtrack. "Heroes" through he tunnel? YES! It's one of my all time favorite songs by Bowie. And I had quite the obsession for Cocteau Twins my junior year thanks to a dear, dear friend, RJ.
Did you read The Perks of Being A Wallflower?
See the movie? 
Did you like one more than the other?