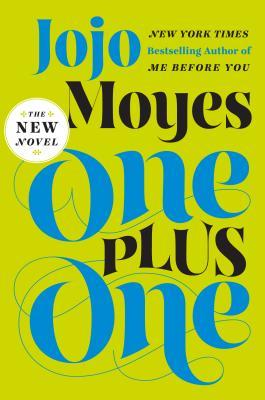 "One single mom. One chaotic family. One quirky stranger. One irresistible love story.
 
Suppose your life sucks. A lot. Your husband has done a vanishing act, your teenage stepson is being bullied and your math whiz daughter has a once-in-a-lifetime opportunity that you can't afford to pay for. That's Jess's life in a nutshell—until an unexpected knight-in-shining-armor offers to rescue them. Only Jess's knight turns out to be Geeky Ed, the obnoxious tech millionaire whose vacation home she happens to clean. But Ed has big problems of his own, and driving the dysfunctional family to the Math Olympiad feels like his first unselfish act in ages . . . maybe ever." ~Goodreads
_________________________________________________________________________________________
One Plus One (July 1) is the latest Contemporary Fiction, dare I say "Chick-Lit" novel from the very talented Jojo Moyes. I prefer Women's Lit but then we are ignoring more than half of the population. It is true that this novel is lighter than her brilliantly written novels  Me Before You, The Girl You Left Behind and The Last Letter From Your Lover but no less beautifully written. Fans looking for lighter fare will enjoy this novel thoroughly.
Jess and her children have a lot to contend with: bullying, a father/husband who left them and being poor. Jess is one of the  most capable, optimistic, caring and strongest female characters written in a story line that deals with the everyday. Not dealing with war, or a kidnapping, a gruesome violence or abuse. She represents most women who are struggling to be a single mother and trying to make ends meet. Her story struck a nerve, being raised by a single mother myself, who worked three jobs and wondered how she was going to support us. I LOVED Jess. She struggled with accepting help but always tried to be a positive role model without being saccharine sweet.
"Sometimes Jess fantasized about the kind of mother she could be if she weren't always working. She would bake cakes, smile more, stand over them while they did their homework. "

"Sometimes she told herself, life was a series of obstacles that just had to be negotiated, possibly through sheer act of will. She stared out at the muddy blue of the endless sea, gulped in the air, lifted her chin and decided she could survive this. She could survive most things. It was nobody's right to be happy, after all."
Each chapter is from the point of view of the main characters: Jess, her daughter Tanzie, her stepson Nicky and Ed, a client Jess cleaned for and happens upon the road where their car broke down. One thing Moyes does so beautifully and seemlessly, is develop fictional characters into someone you recognize. You read along and picture family members, friends and actors who could play them in an adaptation.
I wouldn't necessarily call this a romance or love story but a story about a family trying to find their way against all odds. A story about a woman who never gives up despite all obstacles thrown her way. A story about two kids who are obviously the outcasts, the weirdos, the ones who get bullied yet continue on to find their place. A story about a man who makes a terrible mistake, loses everything and finds solace within a strange little family who drive him nuts as much as warm his heart. A story about different people coming together and realizing they are not so different from one another because they all want the same things: peace, love, acceptance and a chance to be happy.
*I received this printed galley from BEA and couldn't be more thrilled. Upon returning from New York, I received a digital galley from Edelweiss and Pamela Dorman Books/Viking…so thank you! I was not compensated or required to review this title. I mean, come on! It's Jojo Moyes!